3 channel dash camera record your safe and happy moments
3 channel dash camera record your safe and happy moments
Last week, A plane crash shocked everyone, we feel heart-struck as the plane was crashed and passengers cannot be found. Only passengers' belongings and aircraft debrisleft in the mountains.We don't know what happened as black box missing. Over 2,000 search and rescue workers have intensified efforts to recover the black box.
The flight recorders, also known as black boxes, offer vital clues about plane crashes.Black box stored important data such as flight path, speed, altitude and engine power, which can reveal whether human error or instrument problems could have contributed to the crash.
Sigh over the " impermanence of life, time waits for no man! " In this case,we learned that we should treasure every moment with family and friends. We hope you will never meet any accidents.
Why we need 3 channel dash camera ?
The front camera and rear camera can protecting you from potential accidents andliability issues.
Inner camera is a perfect for rideshare drivers such as taxi,Uber. that may need to present proof of activities within the vehicle.It record activity of driver and passengers. Make you feel safe.
Also the inner cabin camera can record the happy moments when you drive with your family,your friends and maybe also with your pets.
3 channel dash camera is a good marketing trend as more and more customers are aware of it's importance. While actually only few famous brand have developed 3 channel dash camera. Nello focus on OEM and ODM dash camera. Here are the perfect models for you.
New Model: 3 Channel
dash camera
TR1
◎Video resolution:2K+1080P+1080P (Front + Cabin+Rear)
◎HDR- night video and picture are perfect
◎360 Degree Rotational Slice Bracket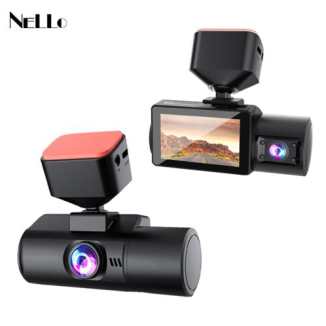 Based the same appearance, we have another solution for Model TR1 Best dual channel dash cam with parking mode, it's in stock.
lDual channels lens 4K+1080p: IMX335 (Front) + GC2053 (Cabin)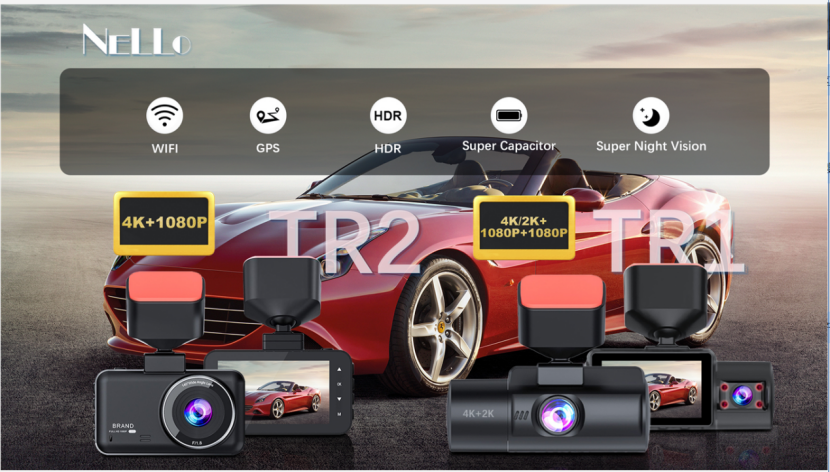 If you prefer to sell family series dash cameras. We'll recommend you sell TR2 and TR1 together. They are with top grade design and great performance. Just likebrothers.
Model 1: TR1- 2 Channel dash camera 4k+1080P (front+cabin)
TR1- 3 Channel dash camera 2K+1080P+1080P (front+cabin+rear)
Model 2: TR2- 4K+1080P (front+rear)
Commom features: Suppot wifi/GPS; Support HDR, Super night vision; Super capacitor, long battery life;
Both them are our patent models and with unique slice bracket that can rotated 360°. This bracket design make shooting angle can be adjusted freely and bring a lot of convenience to installation and driving.
Nello own stable chipset supply chain from Ambarella, HiSilicon, Novatek, Icatch, MStar and other chipset manufacturers.
So we can offer various high/middle level private tooling products to broaden your existing product line and increase competitive edge in your market.
Hope our effort can bring you safe and happy moments.