11.88 inch awesafe mirror dashcam- without straps magnet mount design
11.88 inch awesafe mirror dashcam- without straps magnet mount design
The best rear view dash cams are like a great security guard and co-pilot driver rolled into one. They offer premium features like large touch-screen displays, voice controls, and automatically turn-on with vehicle ignition. Expect the best dash cams to be set up in minutes, and to guard your vehicle when it is parked. Learn more about what to expect in a rear view mirror dash cam and the best ones we recommend here.
We believe that you has been know and familiar with our 9.66 inch no strap mirror dashcm before this. Regardingthe mirror dashcam with no straps magnet design, now it is getting a new trending in market led by Nello, many customers like this desige very much. Alsothe well-known brand Pioneer has launched this no straps mirror dashcam. So if you are interested or want to know more about this camera, please do not hesitate to contact with us.
We also design different sizes according to the needs of the market, so in addition to 9.66 inch, we also have 10.88 inch, 11.26 inch, and 11.88 inch, let me introduce our 11.88 inch recorder to youhere: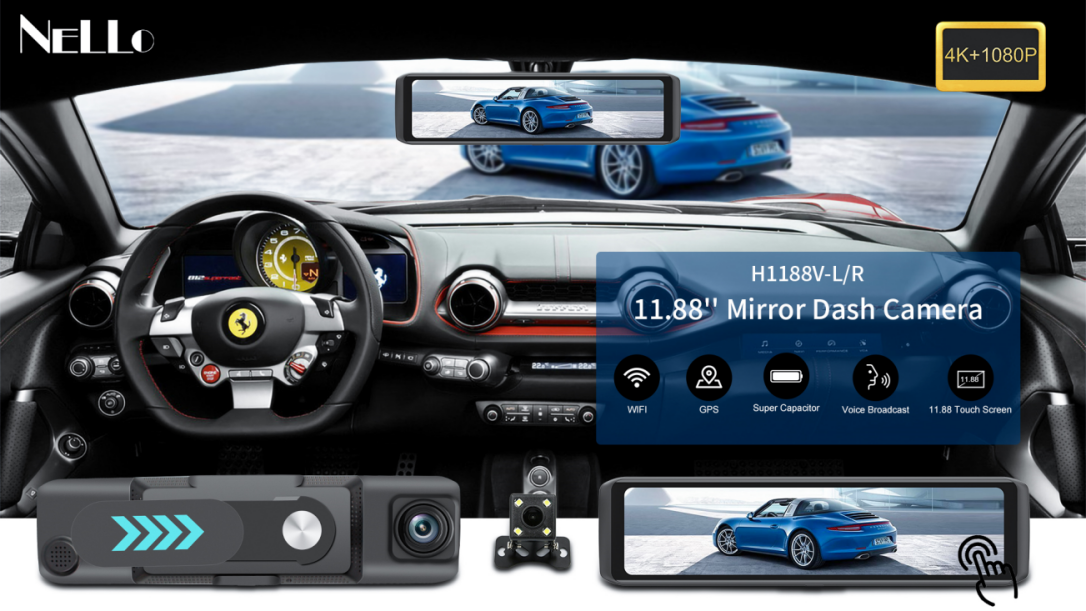 What to Look for With Nello Mirror Dash Cams?
When looking for a rear view mirror dash cam, you'll want to consider the specific features most important for your operation. Is voice command essential? Is HD video the most important? Here are some of the features to consider our mirror camera:
Video quality improves ease of use, and also facilitates insurance claims in case of an accident. Look for a dash cam with HD,2K 4k video footage. Our maget mirror with dashcam support different solution:
Dash camera 4k ultra hd+1080P/2K+1080P/ 1080P+1080P/1080P+VGA
The best rear view mirror dash cam will be easy to use and install. Magnet mount without straps will be easy operate and no damage on the original mirror. Can check the install video in below link:
The best rear view mirror dash cams boast a large screen size for ease of use and control.We have all screen size that are 9.66 inches and 10 inch touch screen10.88 inch, 11.26 inch, and 11.88 inch, different size for different market. And 11.88 is the biggest screen size in this magnet mount mirror dashcam series that bring better driving experience to customers
Touch screen and voice control are the primary features to look for in the best rear view mirror dash cams. Voice control, in particular, sets apart the best dash cams.
Various functions for good sell points:
With our mirror dashcam, it includes different function: HDR,WDR,BSD, ADAS...
Long battery life is essential for dash cams, especially on long-haul routes. Battery life ranges and long-term battery life improve the durability and long-term dash cam performance. Also you can choose more safe driving of the super capacitor power supply.
Extra features like GPS, WIFI, E-dog, etc, many optional features can meet customer's requirements.