So discreet , you will forget this no screen dash cam is there .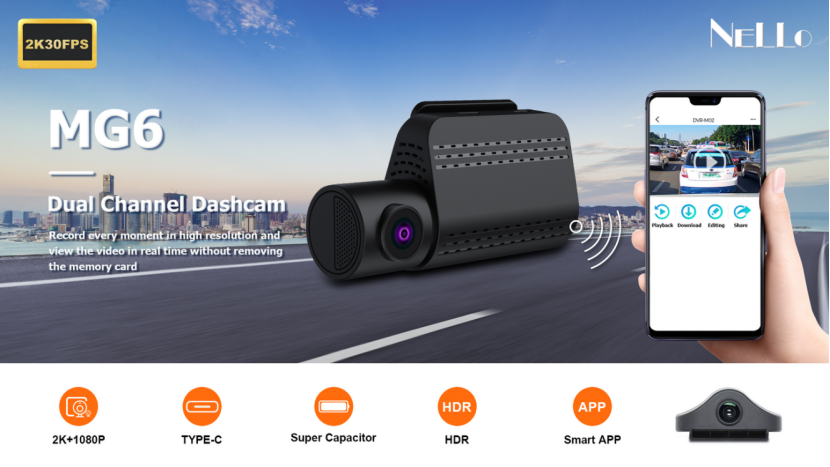 So discreet , you will forget this no screen dash cam is there .
A hidden dash camera is an excellent tool to use while driving. It is your best witness in the case of accidents or theft. A small inconspicuous camera even without the screen, if installed and hidden properly, can record everything that is happening without anyone knowing about it. It helps catch thieves, vandals, and rule breakers on the road.
No display, discreet, superb picture and smart features. We've packed it all into an incredibly compact body. The MG6 is a hidden dashcam that can be left in the car 24/7 thanks to its small size. The mobile app takes care of all the controls and downloads videos in seconds via WiFi.
Place it anywhere
As the MG6has no display and is
completely controlled via the app,
it can be placed anywhere inside your vehicle. Easily click it on the rear-view mirror and the top edge of the windscreen, where it won't distract. Small size and
discreet design
make the MG6the ideal hidden dashcam. So just set it up once and forget about it.
High-end 2.5K footage
covers your back in the middle of the city and in the countryside. The result is reliable conclusive shots containing important details such as license plates and the faces of other drivers and pedestrians. With a framerate of 30 FPS, you won't miss a thing and playback will be perfectly smooth.
Control via the app
The MG6has no display, so it is primarily controlled through a custom-made mobile application. It is fully in English and you can manage all settings quickly and easily.
Capacitor instead of a battery
The camera has a supercapacitor instead of a conventional battery. This guarantees a longer lifetime, maximum safety and is not affected by temperature changes. The camera will not be damaged by a hot dashboard or morning frost. The MG6does have to be powered when shooting footage nonstop but this is commonplace in dashcams.
Perfectly-equipped dashcam
We've equipped the MG6 with all the features to protect you and make your life easier. For example, auto-start means you don't have to worry about switching it on. Loop recording automatically deletes the oldest unnecessary recording to save space. The G-Sensor automatically locks the video when it detects a collision and controls are easy with the full English menu making operating it a breeze.
Protects you day and night
When the days begin to shorten and you start driving more often in the twilight and darkness, you'll certainly appreciate the cutting-edge chip in the MG6, which will capture conclusive shots even under difficult conditions. It features WDR, which enables the camera to deal far more quickly with differences between light and shade - for example, when you are dazzled by an oncoming car.
Keep watch behind (optional)
Don't leave anything to chance and protect your rear bumper. With MG6, you can add a Full HD rear camera to see what is going on behind your car.