A Cost-effective Action Camera to Capture Precious Moment of Your Life
Action Camera For Extreme Sports and Travel
These pocket-sized cameras can record ultra-crystal video, and have features that compensate for jittery movements in real time. You could get similar results from your smartphone, but run the risk of damaging it beyond repair — action camera, as its name implies, was built to be used during fast-paced, challenging situations.
Because of their size, action camera has also become a favorite gadget of frequent travelers who want to take high resolution photos and videos of their trips without depleting their phone's battery. Whatever the case may be, action cameras have become mainstream, and we've compiled this guide of the best ones you can get right now.
If you're planning a safe trip after a year of feeling stir crazy, or want to chronicle your attempts to master a new sport or activity, you might need one.
How To Choose A Right Action Camera
There are many factors to consider when choosing the right action camera for you; below are the most important ones.
Picture and video resolution: If you're shooting a once in a lifetime event, you're going to want the pictures and videos to look as good as possible. The video and photo resolution (image quality) can vary by action camera, but our minimum requirement was the ability to shoot at 4K and take 12MP (megapixel) photos. This ensures your memories will look clear on every screen in your home, from a laptop to a giant TV.
Video stabilization: Cameras with video stabilization reduce the jittery-ness in photos and videos through using a mix of hardware and software to compensate for your movement. All of the 4K action cameras in our guide have this feature, but some do a better job than others.
Dynamic range: This is a fancy way to say better color accuracy, and more contrast between dark and light parts of your pictures and footage. The more dynamic range a camera is able to capture, the more lifelike everything looks.
Durability: You're going to be taking your 4K action camera to places it'll be exposed to the elements. Our recommendations are all waterproof, so you use them to capture video of a mountain bike ride in the rain, or your latest snorkeling adventure.
Connectivity: Most 4K action cameras can be wirelessly connected to your phone over Bluetooth and WiFi, which makes it easy to transfer, edit, and share clips. You can also adjust the camera's video settings, including white balance, sharpness, and exposure. Some models also have built-in hardware that lets you start a livestream from the camera itself.
What Just Happened To The Action Camera Industry?
GoPro has announced the new Hero action camera with a noticeable upgrade to the processor. Its powerful GP2 processor allows it to record at a higher resolution or higher frame rates and offers improved stabilization for added quality in recorded footage. The GoPro Hero 10 Black can shoot 23MP photos and record at 5.3K resolutions at 60FPS. However, 4K and 2.7K video resolutions are still available, but this time with up to 120FPS or 240FPS.
Despite its functions,the price is up to 400USD including accessories.
So is it really worth spending that amount of money? I don't think so.Not everybody can afford.
At this time, you need a cost-effective action camera which record your precious moment
while having fun outside.
Why Choose NELLO X10 Series Action Camera ?
Sunplus V39M chipset +IMX576 sensor.
As you can see from our spec, this must be the best budget 5k action camera.
The video resolution is likeGopro 10 the same action camera.
You can get one on black Friday dealsin 2022 as a Christmas gift.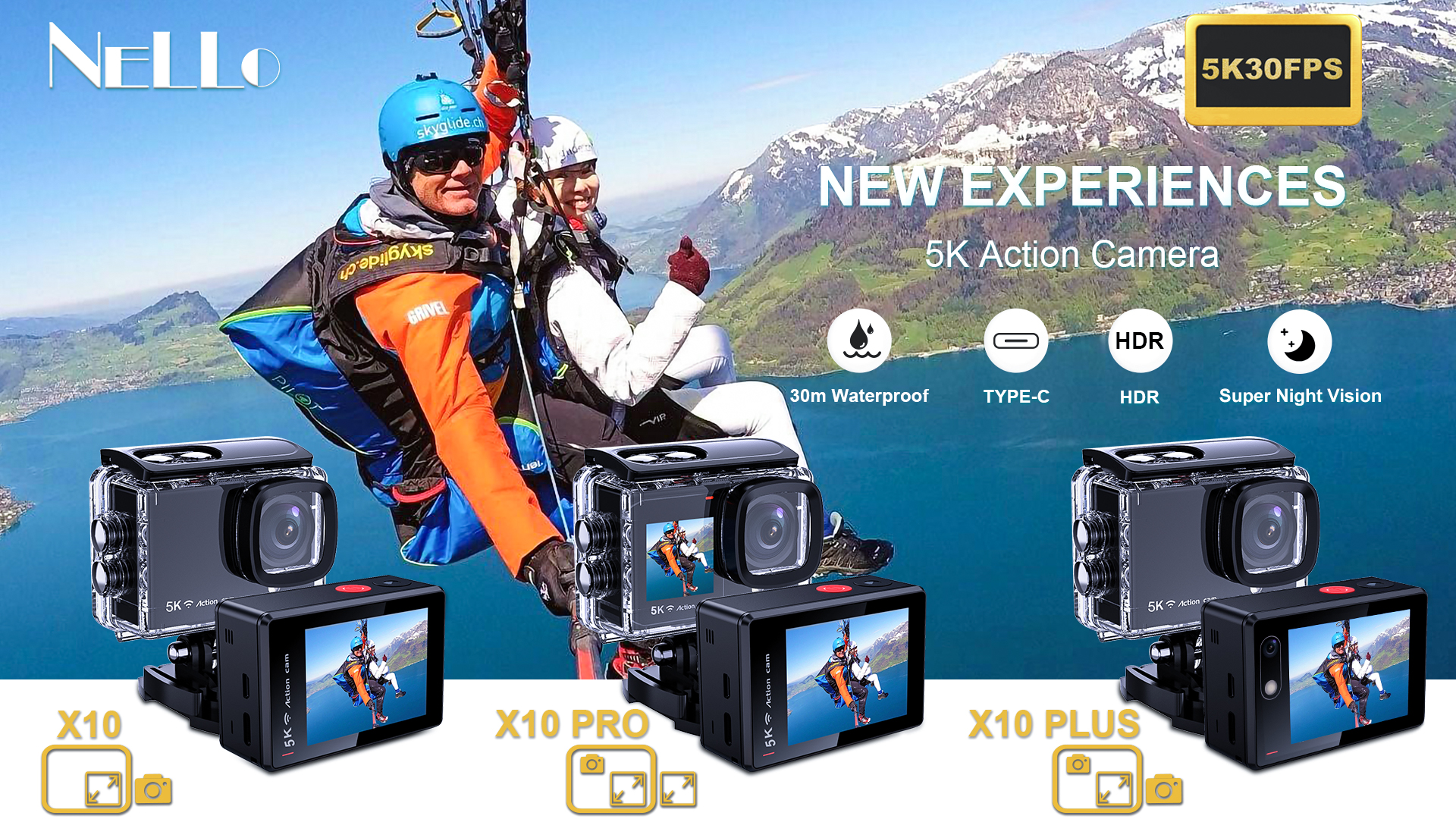 5K@30 fps resolution to shoot ultra-crystal video,4k@60 fps,1080P@120fps resolution also
24MP photo resolution to make pictures look more crystal.
Up to 30 meters waterproof with case,making it easier for diving .
Single or dual screens for your option ,easy to switch and take a selfie.
HDR function reduce exposed light which give you more clear video quality in strong light environment.
Type-c interface makes connectivity more stable.